Tony Price was born in Brooklyn, New York in 1937. In 1967 he landed in El Rancho, New Mexico, having spent the 1960s traveling the US and Europe amongst concentric circles of artists, beatniks and emergent hippies. Near El Rancho in Los Alamos, he discovered Ed Grothus' Black Hole, the famed laboratory salvage yard, and he began to create utilitarian objects such as chairs and tables and musical instruments, as well as wind chimes and gongs, out of the lab's military-industrial "junk".
Price was horrified by the bomb's potential to thoroughly alter lives by its mere existence, and to end all life by its actual use. He began to create sculptures, and his most famous works are a group of deity-inspired masks created out of scrap metal, representing the faces of Spirit as seen by traditional cultures from around the world.
In 1983 filmmakers Glen Silber and Claudia Vianello completed a documentary on price titled "Atomic Artist" that aired nationally on PBS in 1986. In September 1986, Price was given a solo exhibition in the New Mexico Governor's Gallery at the state capitol. The New Mexico Museum of Art organized a major retrospective in 2004 that traveled to the United Nations in 2005.
Price's works of transformed nuclear detritus are celebrated and collected worldwide.
Life & Times
Essays on Tony Price by James Rutherford
Gallerist, Curator

Tony Price and fraternal twin Ted, born Brooklyn, NY
Grade school and Junior High in Pelham Manor, New York
Tony's skills as an artist and musician recognized while attending the South Kent school
Joins Marines, paints portraits of military brass
Lives variously in New York, Mexico City, San Miguel de Allende
Member of Woodstock Artist Association
Travels and lives in Europe, moves to San Francisco
Moves to El Rancho, NM, discovers salvage yard at LANL
Shows at Liquid Wedge Gallery, New York City
Tony dedicates his energies and talent to Atomic Art
Shows work at Gallery of New Mexico, Santa Fe, NM
Group Show, Regional Sculptors, New Mexico Museum of Fine Arts, Santa Fe, NM
Outdoor pieces shown at Shidoni Gallery, Tesuque, NM
Shows at RoseMont Gallery, Santa Fe, NM
Installs Atomic Wind Chimes and S.A.L.T. Talks in Battery Park, NYC
Exhibits and sells work at the Atomic Art Gallery in SoHo
Documentary film on Price, Atomic Artist, shown on PBS
Featured Artist, Telluride Ideas Festival, Telluride, CO
Exhibition at Governor's Gallery, Santa Fe, NM
Exhibits work in MegaVision, a global cultural event, Santa Fe, NM
Tony and friends establish TENGAM, a sculpture garden and gallery space, Santa Fe, NM
Installs numerous pieces at Biosphere 2, Oracle, AZ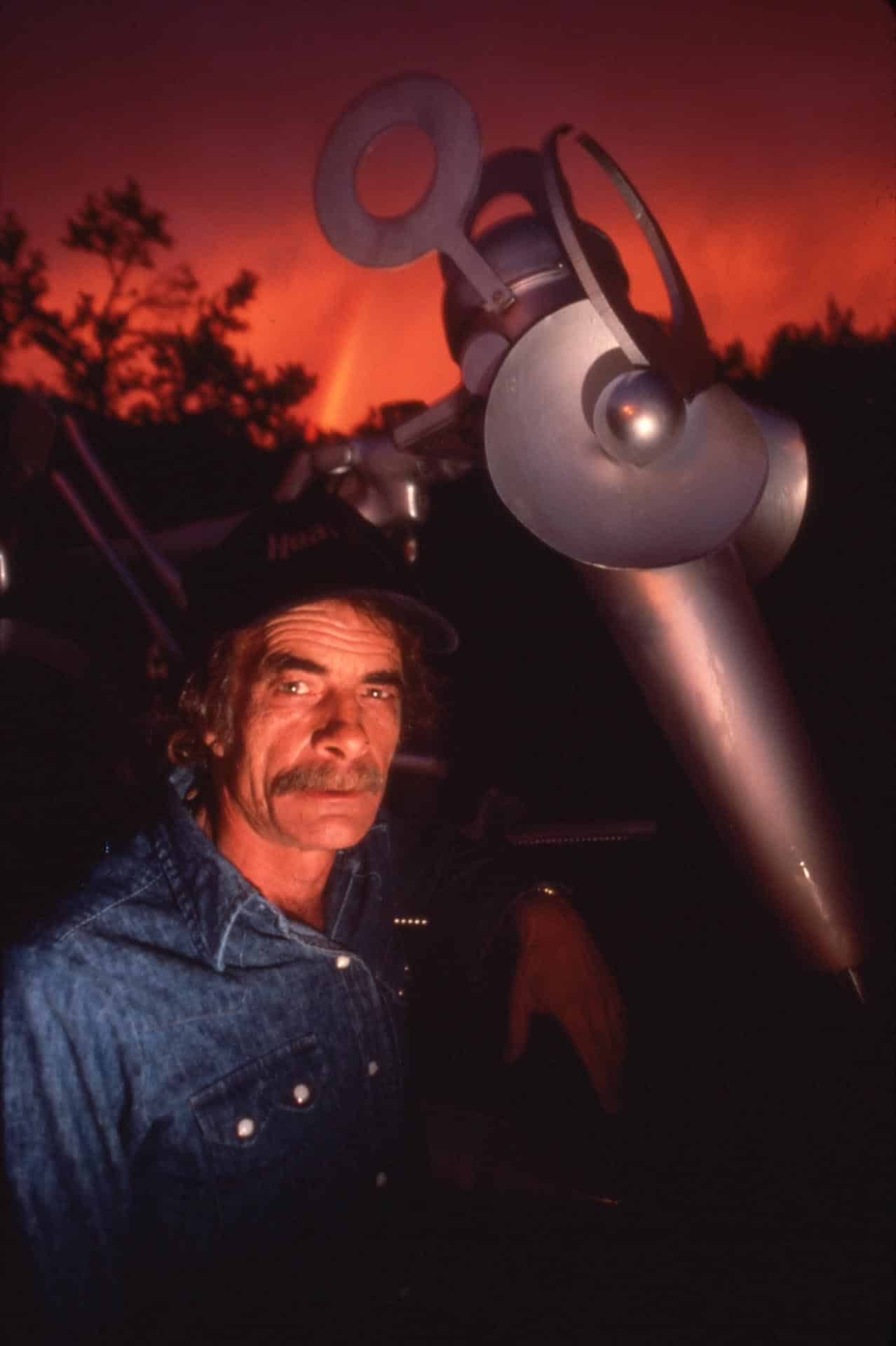 Price moves to Reserve, NM, and constructs a studio to reassemble his Atomic Art, and continues to work
Tony suffers a major stroke
Tony Price dies, March 3, Santa Fe, NM